Before my 80-year-old neighbor, Phyllis, moved into a home, she gave all of her plants to neighbors and friends. Ol' Phyllis had obviously done that 5thgrade science thing where you stick an avocado pit in a glass of water then replant it when its roots start to grow. What she handed me looked like Charlie Brown's Christmas tree: a bent-over twig with one droopy leaf.
Nonetheless, to honor Phyllis and her beloved garden she had to leave behind, I adopted that sad little plant and put him in my backyard. I even named him – Herman – and gave him a ceramic owl "plant pet" from the garden store.
Within months of the sun's and my loving care, Herman blossomed into a big, leafy bush. I immediately became concerned. His pot was too small. He wasn't meant to be a mere plant; his destiny was a large, bountiful tree. Besides, I'd learned you were supposed to put sprouting plants in a bigger pot to thrive, or else they become root-bound and never reach their full growth.
I repotted Herman into a sizeable pot of richly fertilized dirt, moving him to the sunniest spot in the yard. When I checked a week later, all of his leaves had died. All that was left were three brown sticks in the soil.
I instantly burst into tears. Herman had been perfectly happy in his cozy pot and spot among the other seedlings. I projected all of my fear and anxiety about living too small and not fulfilling my potential upon that poor plant, yanking him out of his home and forcing him into a "more prosperous" place that didn't make him happier at all…in fact, it damn near killed him. Why couldn't I just have left good enough alone? Why didn't I feel good enough?
I didn't have the heart to throw Herman away; it felt like a betrayal to Phyllis. Apologizing profusely, I dragged him back to his original spot by his friends. I decided then and there to detach: whatever happened to Herman from now on, and to me, I would just let unfold. I'd still water him, and take care of myself, but no more imposing false beliefs about happiness and success – on either of us.
Several months later, compost bin in hand, I gasped, then smiled. A healthy clump of leaves was sprigging from one of the twigs. Even more, a fresh, green casing was growing over the dead twig where the leaves were being born. Who knew how much a plant could make me cry?
I don't know whether Herman will make it, or how big, or when. But I do know that if he can regenerate himself in any conditions, so can we.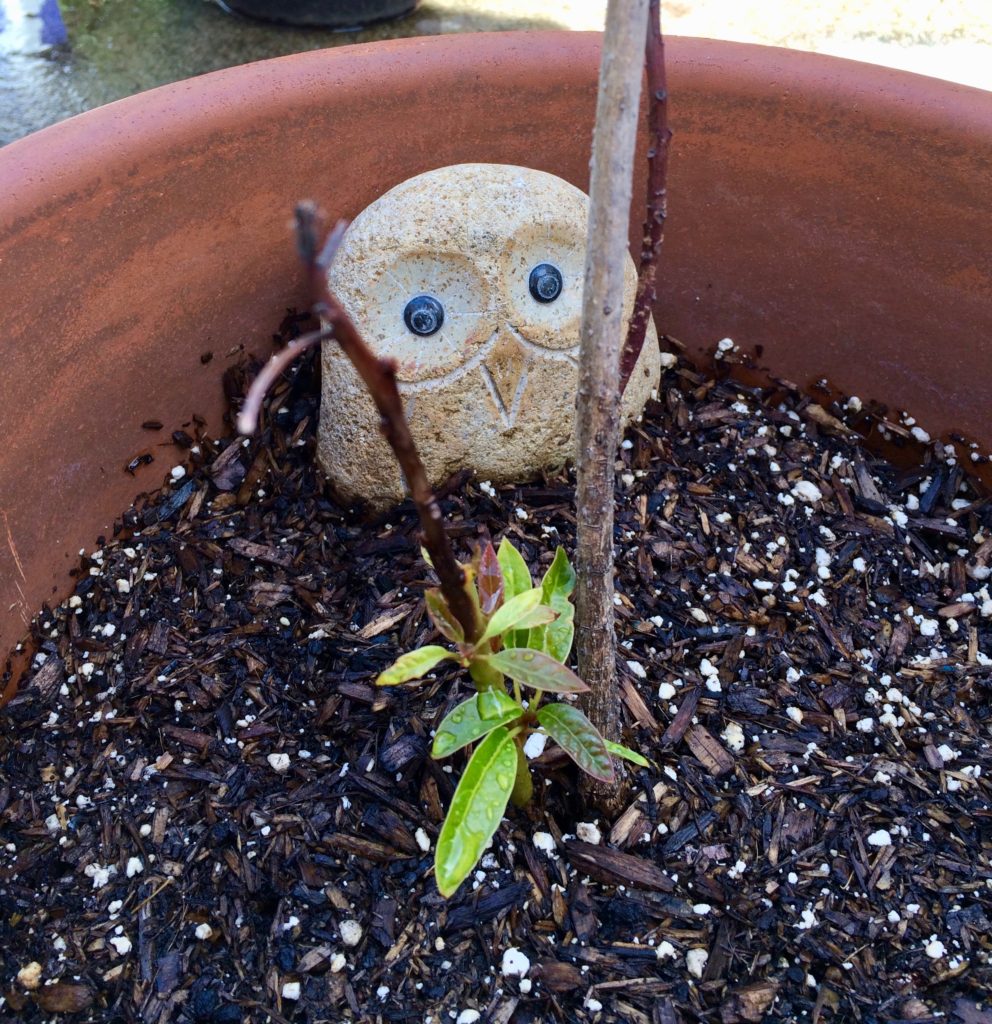 © 2019 by Laurie B. Gardner